화장품수다 :
2008. 11. 29. 11:39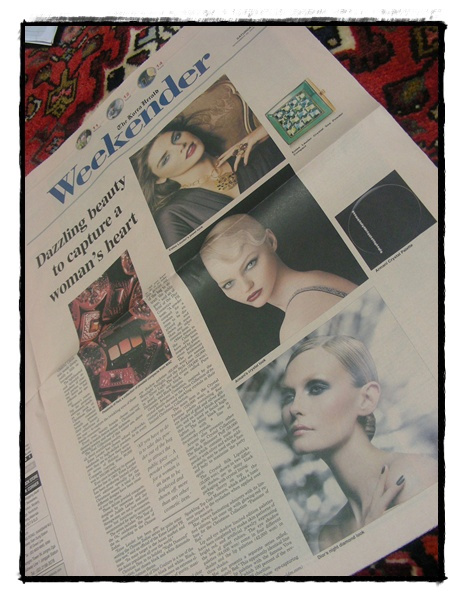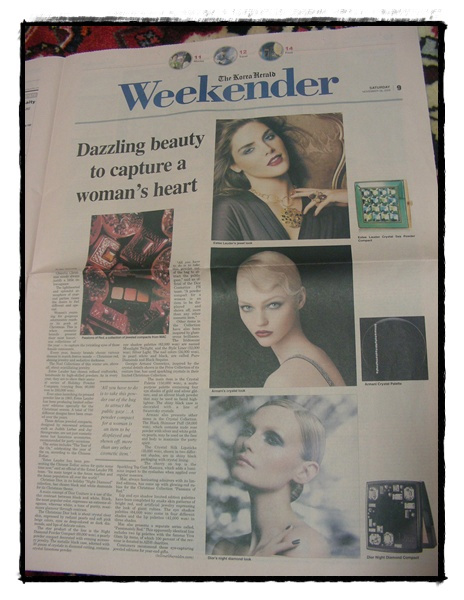 Cheerful Christmas moods always justify a little extravagance.
The lighthearted and splendid atmosphere of year-end parties raises the desire to feel different and special.
Women's yearning for gorgeous adornments reaches its peak at Christmas. This is when cosmetic brands present their most luxurious collections of the year - to capture the twinkling eyes of those female consumers.
Every year, beauty brands choose various themes to match festive moods - Christmas red, shining jewelry and seductive darkness.
The Noel Collections of this winter are, above all, about scintillating jewelry.
Estee Lauder has chosen refined craftworks, handmade by high-skilled jewelers. As in every year, they are to show their annual series of Holiday Powder Compacts (varying from 90,000 won to 350,000 won).
Ever since launching its pressed powder line in 1963, Estee Lauder has been producing limited collectors' editions specially for the Christmas season. A total of 750 different designs have been created over the years.
These deluxe jeweled compacts, designed by renowned artisans such as Judith Lieber and Jay Strongwater, are not just cosmetic items but luxurious accessories, recommended for party occasions.
The series includes "The Year of the Ox," celebrating the year of the ox, according to the Chinese Zodiac.


"Estee Lauder has been presenting the Chinese Zodiac series for quite some time now," said an official of the Estee Lauder PR team. "Its main target is the Asian market and the Asian population all over the world." Christian Dior, in its holiday "Night Diamond" collection, has chosen black and white diamonds for its Christmas theme.
A main concept of Dior Couture is a use of the chic contrast between black and white. Black, the most popular color, expresses an extreme elegance, whereas white, a tone of purity, maximizes glamour through contrast.
The Christmas Dior look is about crystal clear skin, expressed by radiant pearls and soft pink beige colors, eyes as deep-colored as dark diamonds, and lips of delicate colors.
The star product of the line is the Night Diamond Powder Compact (69,000 won), a pearly powder compact decorated with evening accessory jewelry. The metallic black case, adorned with 30 pieces of crystals in diamond cutting, contains crystal limestone powder.
"All you have to do is to take this powder out of the bag to attract the public gaze," said an official of the Dior Cosmetics PR team. "A powder compact for a woman is an item to be displayed and shown off, more than any other cosmetic item."
Other items in the Collection have also been inspired by glamorous brilliance. The Iridescent eye shadow palettes (62,000 won) are named Moonlight Twilight, and the Style Liner (32,000 won), Silver Light. The nail colors (24,000 won), in pearl white and black, are called Pure Diamonds and Black Sequins.
Georgio Armani Cosmetics, inspired by the crystal details shown in the Prive Collection of its couture line, has used sparkling crystals in their limited Christmas Collection.
The main item is the Crystal Palette (150,000 won), a multi-purpose palette containing four eye shades of gold and silver glitters, and an allover blush powder that may be used as facial highlighter. The shiny black case is decorated with a line of Swarovsky crystals.
Armani also presents other items in the Crystal Collection. The Black Shimmer Puff (58,000 won), which contains nude rose powder with silver and white golden pearls, may be used on the face and body to maximize the party spirit.
The Crystal Silk Lipsticks (35,000 won), shown in two different shades, are in shiny black packaging with crystal lining.
The cherry on top is the Sparkling Top Coat Mascara, which adds a luminous impact to the eyelashes when applied over regular mascara.
Mac, always fascinating admirers with its limited editions, has come up with glowing-red rubies for the Christmas Collection "Passions of Red."
Lip and eye shadow limited edition palettes have been completed by snake skin patterns of bright red, and artificial jewelry expressing the look of giant rubies. The eye shadow palettes (64,000 won) come in four different shades and the lip palettes (42,000 won) in three shades.
Mac also presents a separate series called, "Passionately Red." This apparently identical line includes two lip palettes with the famous Viva Glam lip items, of which 100 percent of the revenue is donated to AIDS charities.
Consumers recommend these eye-capturing jeweled editions for year-end gifts.